Our mind and body are powerful allies, and our skin is somewhat of a health map. The obvious connection between the three is visible in our physical reaction to stress. It is extremely important to make mandatory time for self-care. Help your skin to shine with a 6-minute full supercharged facial!
Time Is Money
It is often said that time is money, and lack of time has been unavoidable with all errands & tasks in our daily life. We are trying to balance our work, family, friends, sports, and we surely want to take some time for our mind & body. And FOREO found a solution so, when it comes to your wellbeing, you don't have to compromise on either.  FOREO designed a full supercharged facial treatment that takes only 6 minutes and delivers spa-level results – on your own terms!
Beauty tech enhances lives around the world
FOREO is pioneering the Beauty tech industry, combining cutting-edge technology and innovation to create groundbreaking devices that give back both time and money whilst delivering premium skincare results. LED lights, microcurrent, T-sonic pulsations – technologies that were not so long ago featured only in science fiction, are now a reality. FOREO scientists at the FOREO Institute combined the latest tech with sleek Swedish design to handcraft the smartest skincare tools that actually work – so you don't have to! 
Recommended by Vogue – The World's Most Influential Fashion Magazine
French Vogue reveals the best-kept secret of the beauty-tech industry: The 6-minute full supercharged facial! Top 3 best-sellers for skincare on a daily basis are: Luna 3, Bear & UFO 2. 
Vogue Tested and Approved

STEP 1
One-minute with LUNA 3: For professional cleansing
Oh, those pores: small (or sometimes not so small) openings on our skin are so important for our skin to be healthy. But oil and sweat make them blocked and clogged which contributes to acne. Since we surely don't want that, a lifesaver Luna 3 gadget comes in.  With its T- sonic pulsation it makes the magic shaking the skin strongly as a quake with gentle silicone bristles and pushes 99,5% dirt away! And not only that, these pulsations stimulate the blood flow and bring oxygen to the surface. Deep cleanse will make your skin glowy and refreshed. After that, simply use the back of Luna 3 for a massage and gently go through all the areas to completely relax your face and neck. Your skin is now firm and illuminated while the skin texture is refined.  Vogue.fr warns:
After testing it, it is not even possible to go back to classic facial cleansing using only your fingertips.
As Vogue said, for a younger-looking complexion and radiant skin choose Luna 3:)
STEP 2
Three-minutes HIIT workout with BEAR: To tone the contours
The human face has 43 muscles in addition to 26 muscles placed in the neck. The good news is all this epidermal area can be toned and firmed. However, if you thought a workout needs to be painful to yield results, think again. FOREO's BEAR, a cute handheld microcurrent facial toning device, packs some serious punch and within only three minutes rejuvenates the skin and reduces the appearance of fine lines and wrinkles. The cute bear combines electrifying microcurrent tech for skin tightening with T-sonic pulsations to deliver the most energizing facial ever. Unlike other similar products on the market, BEAR features the patented anti-shock system making it the safest microcurrent device available – meaning you will not feel anything on your skin as it is paintless.  But what you need to use is a hydrating Serum Serum Serum which safely transfers microcurrent from the device to the skin. The only cautionary advice is – be careful as you might get addicted to your new favorite supercharged sport session! 
STEP 3
Two minutes of mindfulness with UFO 2: To deeply nourish the skin (and much more!)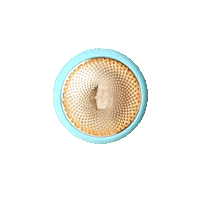 UFO 2 device is truly an out-of-this-world skin-tech tool that nourishes both your body and mind.  Just at the first look at UFO 2, you can't really see how powerful this gadget is and how many functions it has. So many multifunctions and the best of it, it is super simple to use.  
One of its most important features are LED lights – and in more colors than a rainbow – 8 of them! While the importance of the benefits of the LED lights has been raised, FOREO's customers are championing using it. It is hard to say which one is the most favorite one since each one of them has different benefits to the skin. LED light therapy features 8 different wavelengths, each equally impressive in its performance.  For example, red light diminishes signs of aging for younger-looking skin (which we all want):) Purple light illuminates the skin, blue light removes imperfections and fights bacteria-caused acne, yellow light soothes skin inflammation. More about LED lights on FOREO.com.
You remember old-fashioned steaming the face with the towel over the head while bending over a just-boiled jar of water? Lucky for us, that is in the past and the future is here. With UFO 2, it takes 90 seconds to warm the face, opens the pores for all the ingredients from creams, serums, and masks to go into the deep layers of the skin. FOREO offers over ten different smart masks with active ingredients that can be used with the UFO 2 to hydrate and treat the skin. Masking with UFO 2 improves skin moisture levels by 126% after only 90 seconds and, as nothing gets wasted on the surface. The effect lasts up to 6 hours, while UFO 2 has also been clinically proven to significantly reduce the appearance of wrinkles in just seven days.
Sometimes you don't want the pores to be open, you want them to be tightened – and, of course, FOREO has the solution for you. You don't have to scroll your face with the ice while it melts and drops on your top – rather simply use the Cryotherapy function. The gadget will cool down your skin shrinking the pores, leaving your skin looking firmer, lifted, less puffed, and younger.
Sonic waves extend deep into the pores gently massaging to relax facial tension, smooth fine lines, soften dark circles and reduce puffiness, increase absorption of creams and serums and boost the efficiency of UFO mask formulas.
As Vogue perfectly describes it, take the time for yourself, transform your bathroom into a high-tech spa. It is not only that it saves time as in 6 minutes you can have a professional treatment at home, but it is also the best skincare investment due to the high-quality products & insane battery life.  Prevention is a pillar of anti-aging and investment in skincare early is to delay or avoid more expensive procedures later.  
Read the Original Vogue Article.